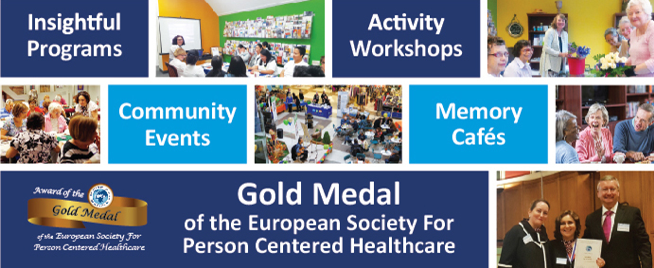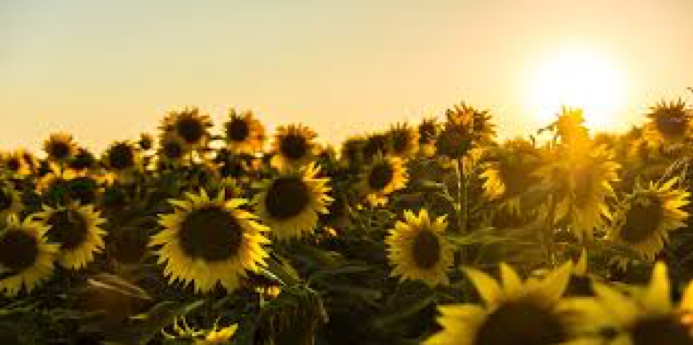 Here we are in the middle of summer and it has been a scorcher! Our Pole Walking program is in full swing and the weather, while hot, hasn't stopped anyone from enjoying time together while getting some exercise. The same can be said for our weekly knitter/crochet group – lots of chatting, finger exercise and even a birthday party thrown in for good measure!


We are busy finalizing dates for the fall programs and newsletter – keep watch for it! You can receive the newsletter either in print from through Canada Post, by email as well as by signing up for it on our website.


Back by popular demand, will be another Field Trip to the St. Lawrence Market followed by lunch at The Old Spaghetti Factory. We did this in July and it was a HUGE success! Mark the date now: October 25, 2019. Below pictures of the group at the Dog Fountain Berczy Park 35 Wellington Street East. And the second picture is of the group having lunch at The Old Spaghetti Factory 54 The Esplanade.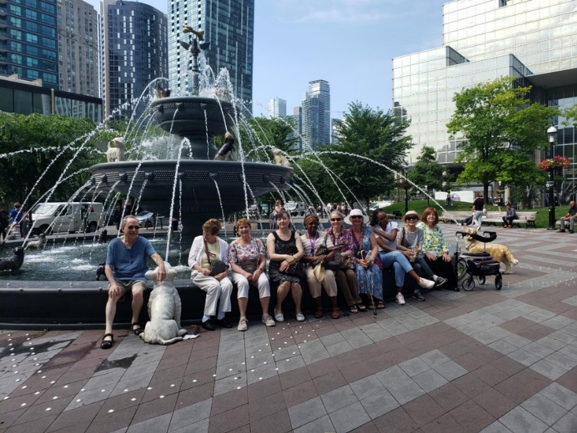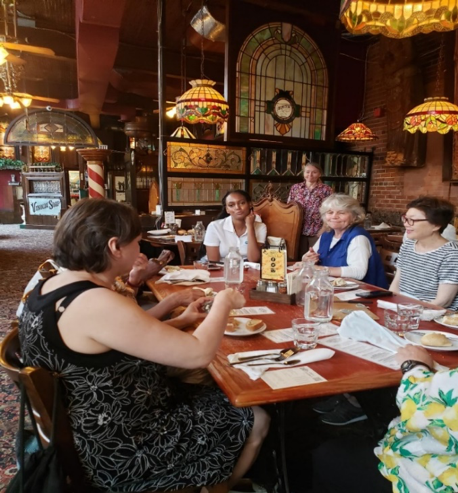 Every month, we spotlight one employee of Mosaic for the wonderful work that they do. This month, we honour one of our front-line RPN/Personal Support Workers for her level of professionalism with our clients and our Client Services Team. Read more about Angelique in the 'Spotlight On' section.
World Wide "Knit in Public Day"
This was our 2nd annual World Wide Knit in Public Day and we had about 20 attendees come to The Shops on Steeles and 404. We enjoyed each others company and there was a bit of 'show and tell' with different projects people are working on! Look at the cheeky purse with the beaver and water bottle holder and the afghan which used bits of different colour yarns. Beautiful.


We also received a donation of many Twiddlemuffs from the Retired Teachers Association of Scarborough which was a nice surprise. These will be distributed in the fall as the weather gets chillier.


Snapd newspaper attended and took a picture of a few of the attendees which was featured in the July print Snapd paper featured below. Dina Campeis of Mosaic did a great job in organizing this event for the community!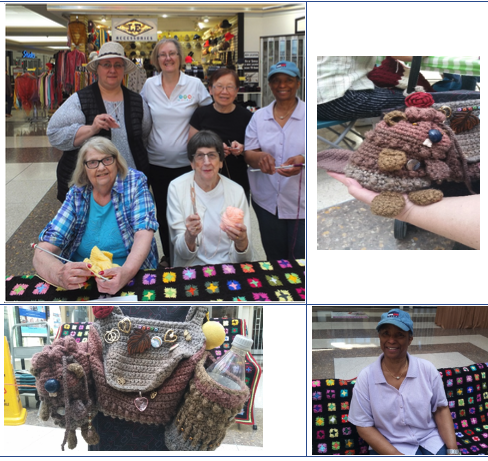 Mosaic in Action in the Community
Summers at Mosaic are, thankfully, a slower time for conferences and events, but, that said, we are out in the community every week.


Every Thursday and Friday, the Mosaic Pole Walkers take to the streets. You can find us in and around Sunnybrook Park Mid-town area and walking around Simonston Park in Markham.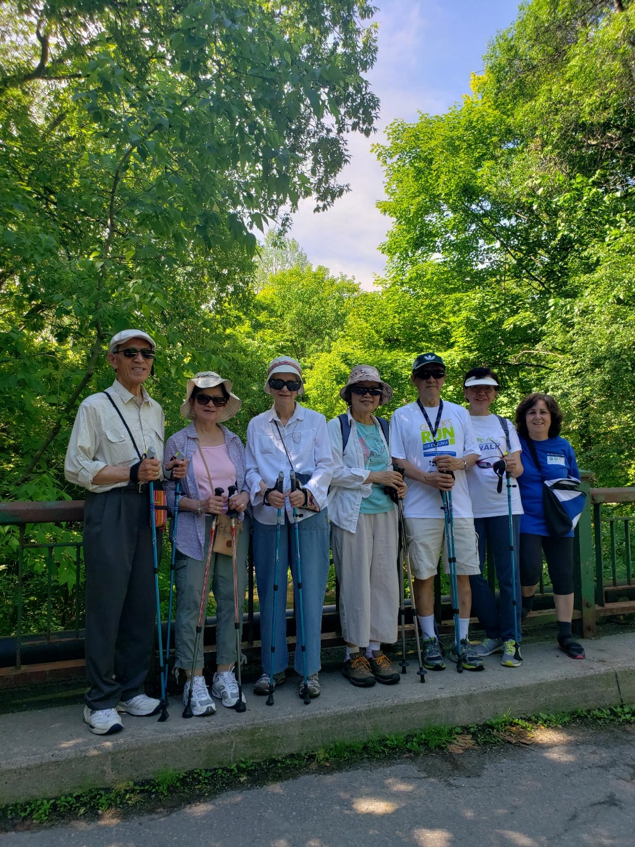 Community Café at Armour Heights Presbyterian Church
We have partnered with Armour Heights Presbyterian Church to host a Community Café monthly.


June and July had interactive workshops on Community Mapping and Forest Bathing. For more information on upcoming events here, please call us or check our social media pages.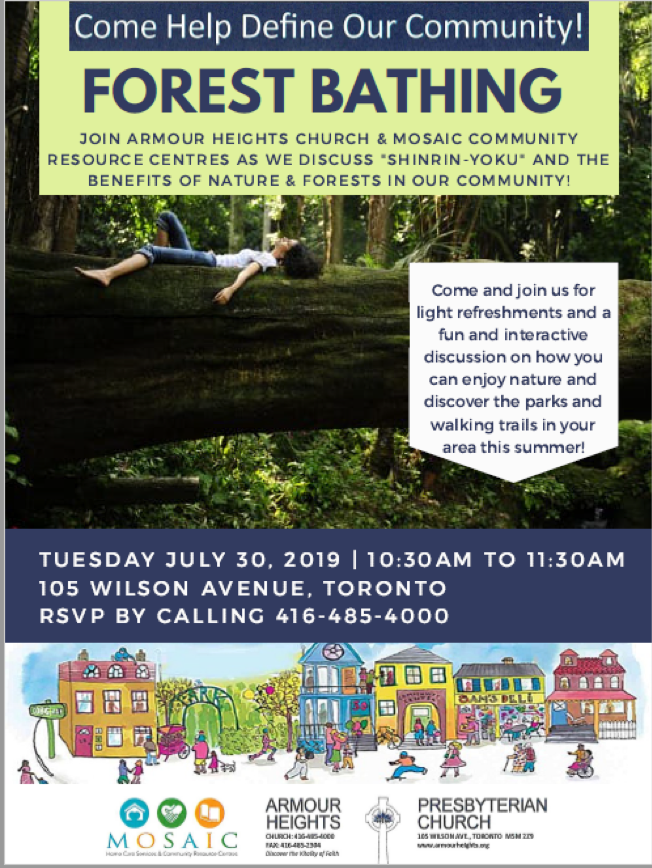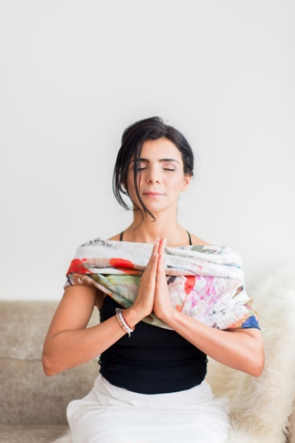 On Tuesday August 27th, 2019 from 10:30 a.m. to 11:30 a.m. Mosaic will feature Almeiri Santos Meditation Teacher and Reiki Master at Armour Heights Presbyterian Church. Located at 105 Wilson Avenue, free parking on the side streets. This very relaxing and free program will fill up fast so please register early by calling Erin at 416-485-4000
Mosaic Spotlight on a Special Caregiver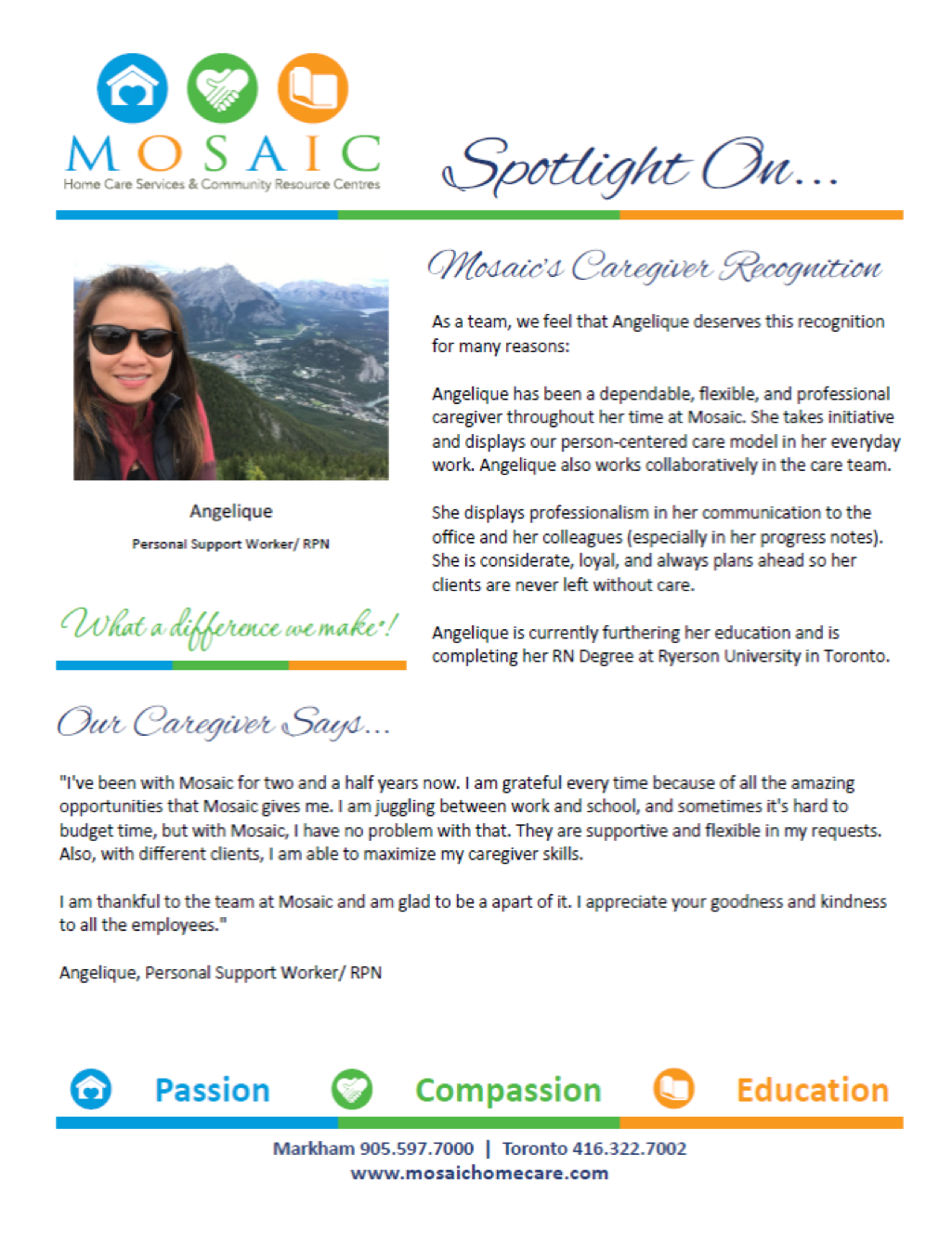 Chair Yoga Series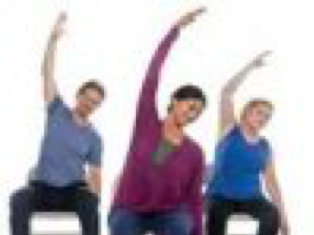 Mosaic is lucky enough to partner with Better Living to provide a Chair Yoga Series at our mid-Toronto Community Resource Centre on the first Wednesday of May, June and July. The entire series was very well received and we will be adding more of these programs to our Fall Newsletter. Better Living has graciously organized the facilitator for this free program they are offering at Mosaic Toronto office starting September 4th, October 2nd, November 6th and December 4th, 2019. If you are interested please contact our main number to register.


At The Shops on Steeles and 404, we will have a 3-part chair yoga series, held in Centre Court the 3rd Friday of September, October and November and will be facilitated by Joanne Picot. The first dates will be Friday September 20th. There is a $5.00 fee per class. Please register as space is limited. Healthy snacks will be provided.
Movies & Popcorn
A few months ago at the Community Resource Centre at the Shops on Steeles and 404, we started to show a movie. Being very democratic, a few movies are available, and the group agrees which to watch. This is a great opportunity for those who like to watch movies in a smaller space (for free!) and want to meet new people at the same time. So far, we've watched Mary Poppins and Inception. Two very different movies!
Come and join us – we'd love to meet you. RSVP is required as space is limited.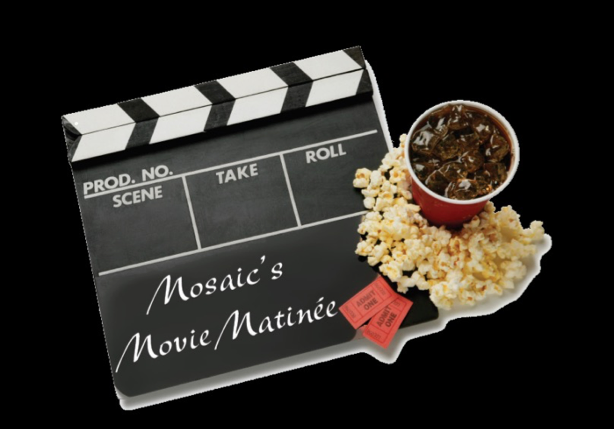 Bird House Builders!
Women and tools! Meet the ladies who came to a one-of-a-kind bird house building project. What a mess this class was, but lots of concentration, drilling, painting and ending up with a beautiful bird house.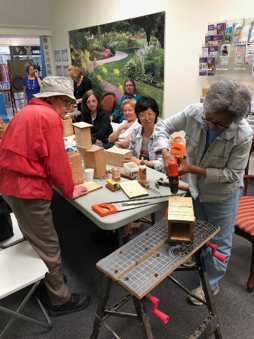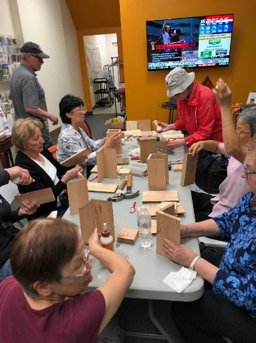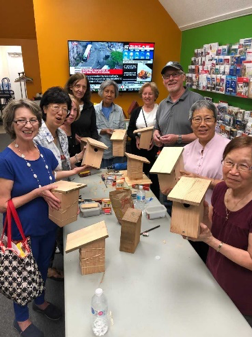 Our Featured Fundraising Event: Alzheimer's Coffee Break – September 24th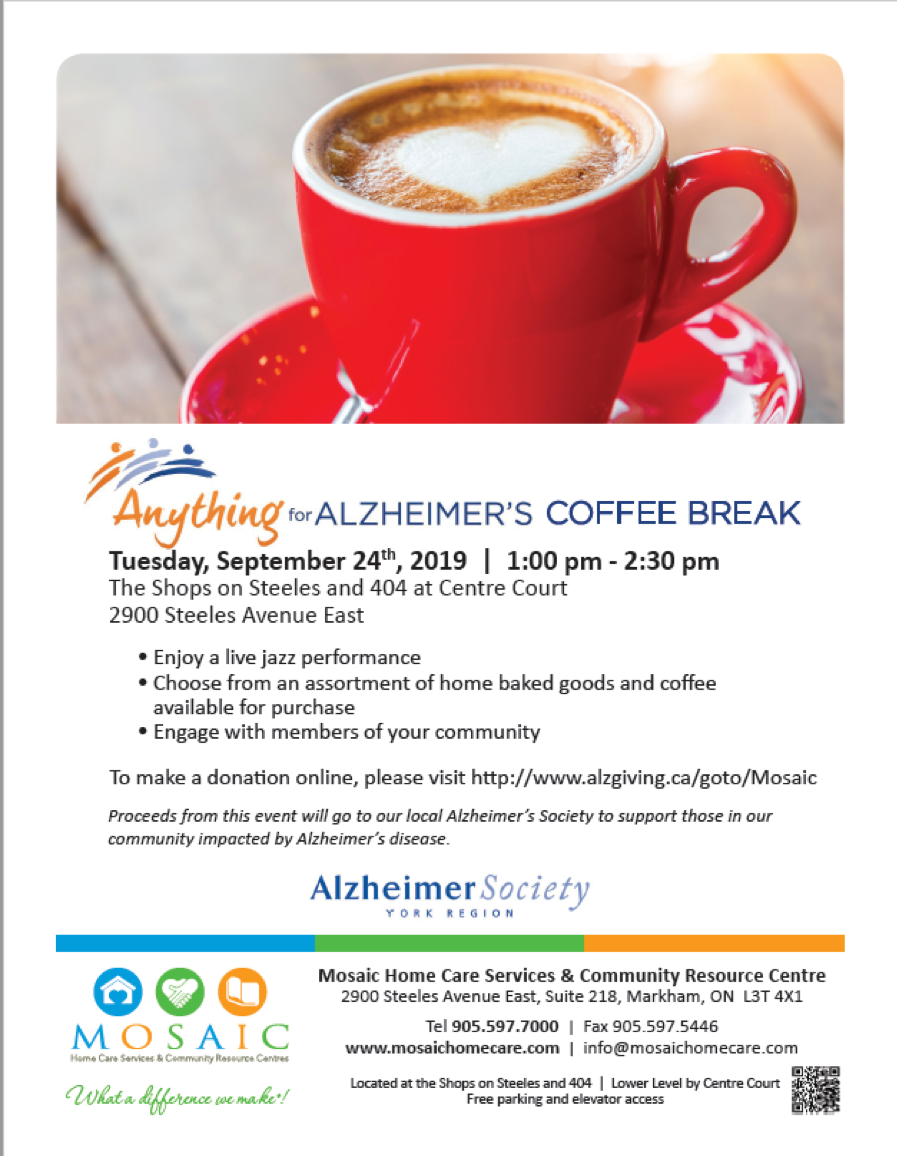 And also Our Regular Monthly First Link ®Memory Café
Other ongoing Events at Mosaic
The knitting and crocheting groups continue at both Community Resource Locations. So too, will our monthly cafes that encourage socializing, learning and laughing.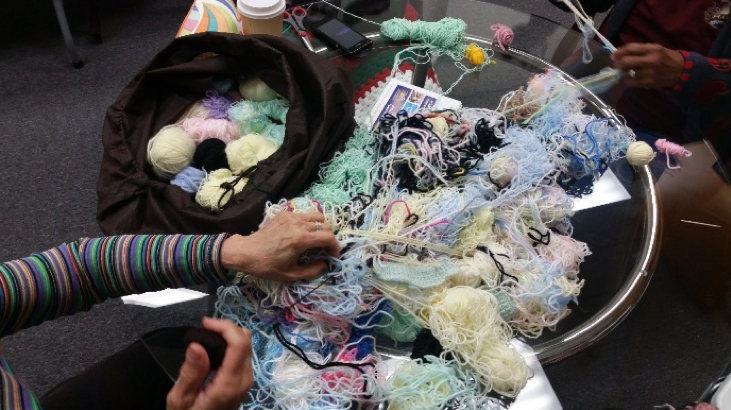 Community Table Talks
We are happy to introduce a NEW program this Fall which we are featuring at our Neighbourhood Whole Foods on Bayview. We have attached the flyer for you below for more information.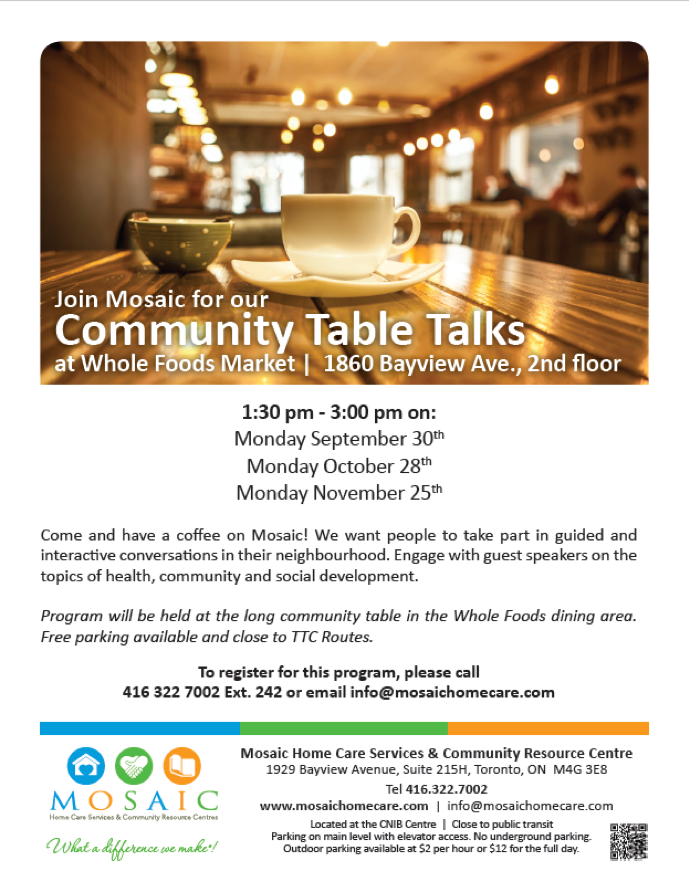 Shop & Dine With Mosaic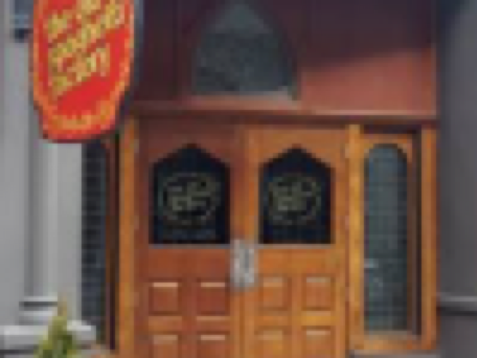 Back by popular demand, we will be meet for a stroll through the historic St. Lawrence Market on October 25th at 10:30am – 1:00pm to explore all the cheese, meats and fish you can imagine. And, the desserts! An unbelievable variety of foods to choose from.
Then, we will head over to The Old Spaghetti Factory for lunch and socializing. There is a shared cost for the lunch. Details to follow.
From our Mosaic Client Services, Marketing, Operations and our Caregivers we wish you all a wonderful rest of the Summer! And looking forward to seeing you in the Fall.
RSVP for any of our events at
905.597.7000 or 416.322.7002
Markham Office (The Shops on Steeles and 404)
2900 Steeles Avenue East, Suite 218, Markham, ON L3T 4X1
Tel 905.597.7000 | Fax 905.597.5446


Toronto Office (CNIB Centre)
1929 Bayview Avenue, Suite 215H, Toronto, ON M4G 3E8
Tel 416.322.7002