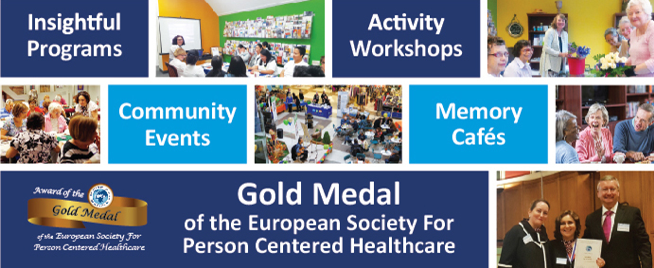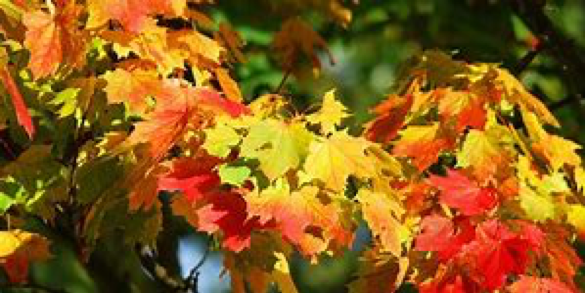 A Look Back
September and October were wonderful months weather wise and we were able to continue our outdoor pole walking without much rain. We even had 2 potluck lunches with the groups.


It's amazing what we accomplished in the community in September and October: 8 speaker presentations to various groups; attended 9 health fairs/conferences and facilitated 12 community events such as the Community Cafes at various churches. And we had quite a bit of media coverage! Details on the next page.
And, of course, we've been busy distributing our Fall Newsletter throughout the City.


But first, a bit about our staff:


Our newest addition is Paula Martins Barretto, who is currently a student at George Brown College in the Gerontology/Activation Program. She is spending 2 days/week with Beth in the Community Resource Centre and will be learning all about Mosaic and what we do in the community as well as facilitating some programs as time goes on.


Speaking of Beth, who is our Community and Social Engagement Coordinator and works out of our Steeles Resource Centre, she surpassed her ONE year anniversary in September! Followed quickly behind her is Sarah, our Social Worker in Client Services, who hit the ONE year mark on October 3rd. But no one is close to Martha, our Client Services Liaison and practitioner in our person centered care model 'The Meaning of Me®", who on October 23rd, marked her 9th year anniversary! Mosaic is so lucky to have such dedicated, knowledgeable people working with us.


Every month, we spotlight one employee of Mosaic for the wonderful work that they do. This month, we recognize one of our front-line Personal Support Workers for her tenure with Mosaic and her compassion for her clients. Read more about Arlene in the 'Spotlight On' section.
Our knitting and crochet group continues to delight in each other's creations and are now working on charity knitting projects. They continue to make Twiddlemuffs for those living with dementia and these have been donated to hospitals and long term care homes throughout September and October. They are currently working on hats and mitts to donate to the Out of the Cold program. We already have several hats and are looking forward to many more before the snow flies.
Mosaic in Action in the Community
While we offer many programs in our Community Resource Centres and in partnership with organizations, we have also been successful in our media coverage as shown below. Enjoy!
Mosaic in the Media
Mosaic was published both in print and on-line in the Fall issue of Rehab Magazine for an article written by Mosaic (Jane Teasdale), entitled: Empathy: Person-Centredness and Social Connection.
Did you know that you can send in questions to The Ontario Society of Senior Citizens Organizations? Mosaic (Jane Teasdale) was also asked to be one of the "Ask the Expert in Home Care" for them in the upcoming months. This blog series will shortly be posted online at their site https://www.ossco.org/category/ask-an-expert/ so stay tuned!
First Annual Alzheimer's Coffee Break
Every September is Alzheimer's Month and this year, Mosaic worked hard to organize an Alzheimer's Coffee Break to raise money for both research and support services.


Members of our First Link Memory Café program participated as volunteers and some even baked goodies to sell! There was also music – a flautist – to keep things lively. Between the baked goods and coffee, over $500 was raised!


A lot of effort goes in to organizing this type of event, and we would like to thank Beth from Mosaic's Community Resource Centre and Jonathon from Alzheimer Society of York Region for their time and energy to pull this off.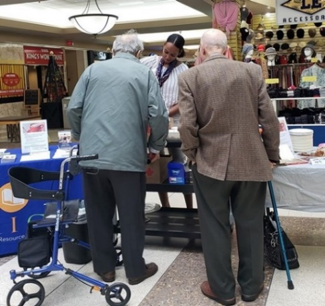 Beth serving 2 gentlemen coffee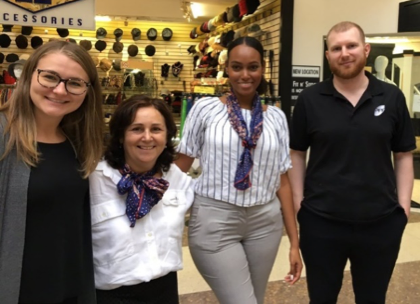 From L to R: Sarah, Jane, Beth from Mosaic; and Jonathon from Alzheimer Society of York Region
Chair Yoga
Both Toronto and Markham Community Resource Centres held Chair Yoga classes. Both were very successful with the one at the Markham location being held in the Centre Court of The Shops on Steeles and 404 to allow for more people to attend this popular class.


If you are interested in knowing more about these programs or attending the November classes, RSVP is required due to limited space. Look how much fun they are having!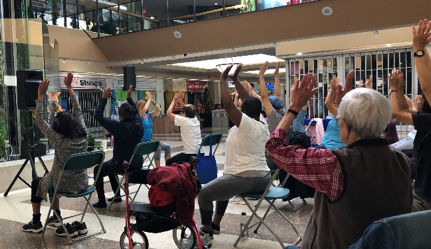 Shop & Dine with Mosaic!
Summers at Mosaic are, thankfully, a slower time for conferences and events, but, that said, we are out in the community every week.


Every Thursday and Friday, the Mosaic Pole Walkers take to the streets. You can find us in and around Sunnybrook Park Mid-town area and walking around Simonston Park in Markham.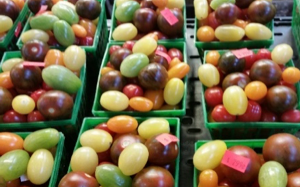 Back by popular demand, is another Field Trip to the St. Lawrence Market followed by lunch at The Old Spaghetti Factory. We did this in July and it was a HUGE success! Because of this, we have another date in October which is the overflow of people who were on the waiting list. It was booked many weeks in advance and we are looking forward to looking at all the eclectic delicacies while we are there and then enjoying a bit of food and conversation afterward.


In the meantime, join us for our Community Table Talks – coffee and treats on us! Next event is Monday November 25th from 1:30-3:30pm. More details towards the end of the newsletter.


We meet monthly (except December) at Whole Foods Market at 1860 Bayview Avenue. Sometimes we have speakers and sometimes we have topics of interest to discuss. This is a great opportunity to engage in guided and interactive conversations with others who live in the neighbourhood. And, maybe do a bit of grocery shopping afterwards!


It seems that many people enjoy these outings, so we are looking at booking more in the future. We will once again go to Allen Gardens in the Spring followed by lunch. We are always looking for interesting and accessible locations for outings, so please let us know if there is a particular place/restaurant that you know of that we can take a group to. Your input is important to us!


Art Class!
We held a wonderful beginner art class with about 15 participants at our Markham Community Resource Centre. We learned first to draw using basic shapes and then began painting with acrylics. Look at some of the artwork produced – wonderful!



Community Café at Armour Heights Presbyterian Church
We have partnered with Armour Heights Presbyterian Church to host a Community Café monthly.


Each month is a different topic of interest and have included interactive workshops on Community Mapping, Forest Bathing and Meditation. In November, we will celebrate the Holiday Season with a light lunch and some Folk Dancing! Come and meet your neighbours and learn a new form of dance!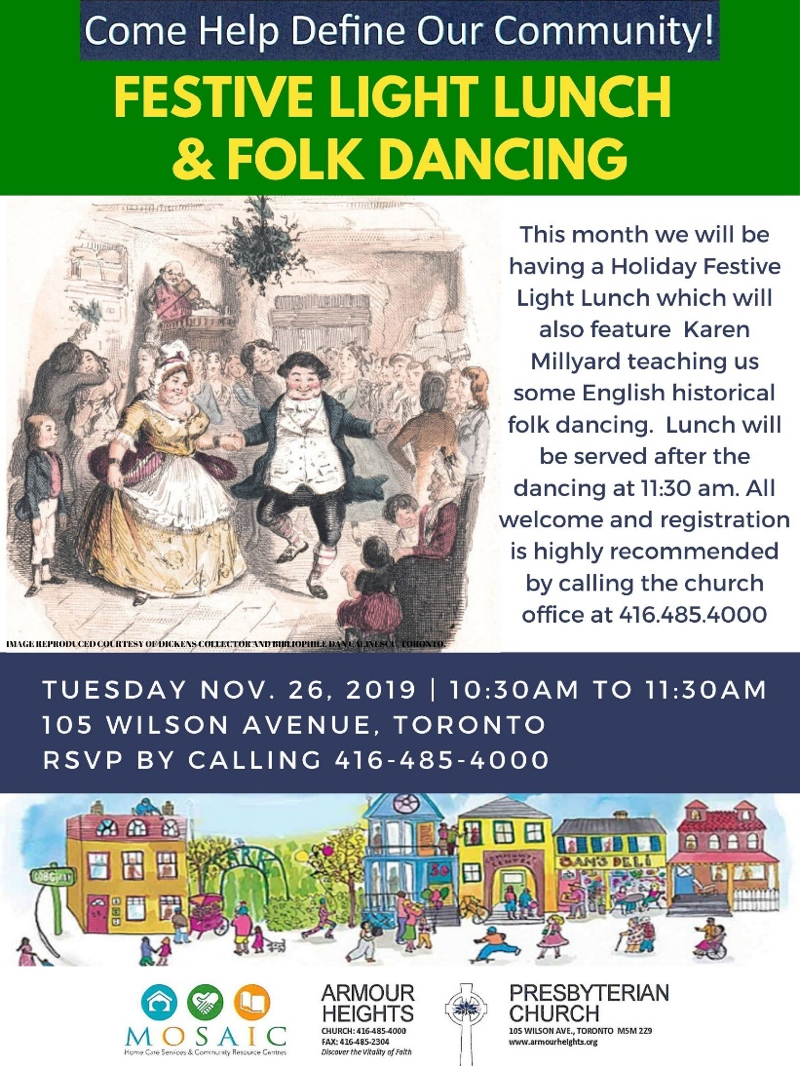 To RSVP for this event, please call Armour Heights Church and speak with Erin at 416.485.4000 OR call Beth at Mosaic at 416.322.7002
Mosaic Spotlight on a Special Caregiver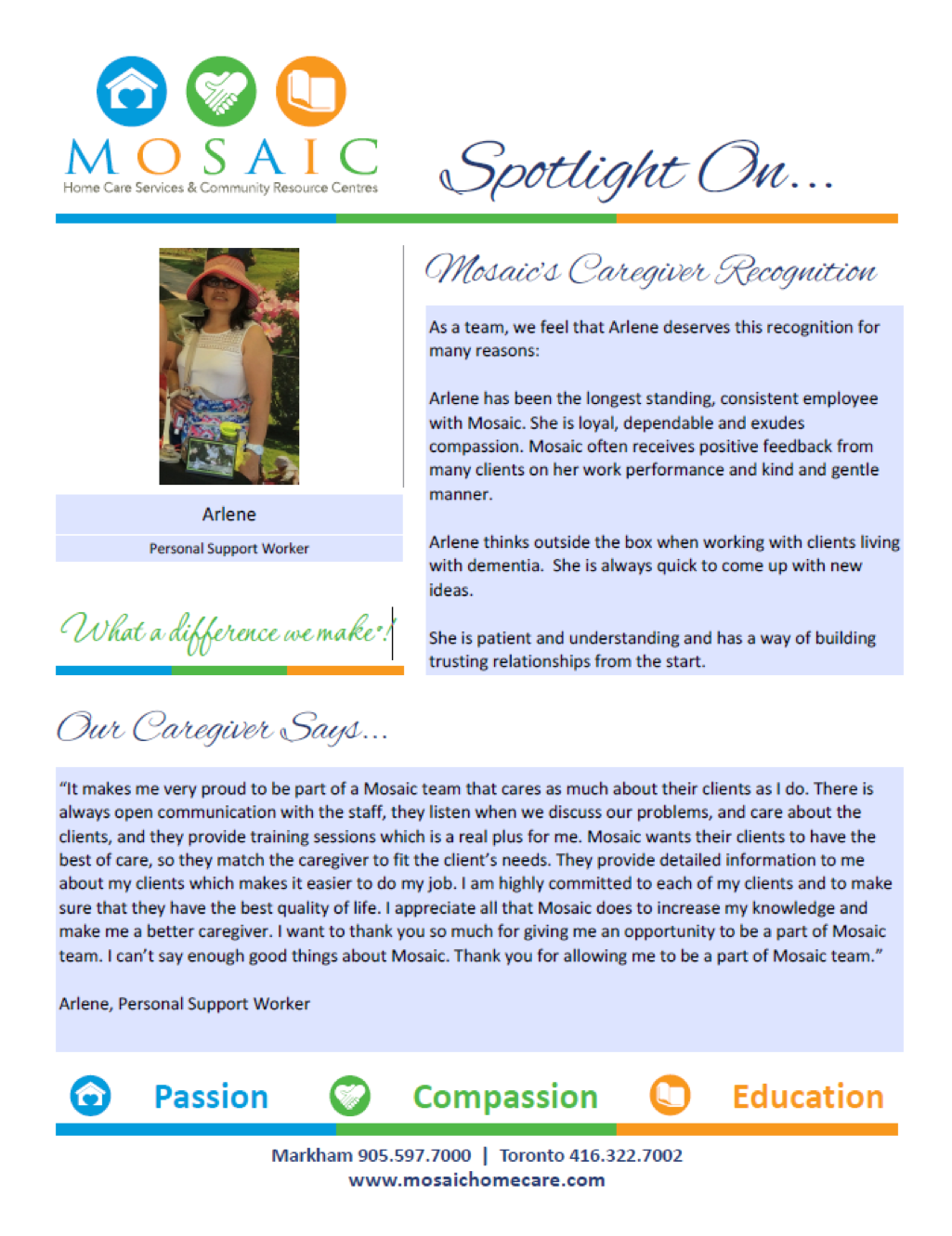 Yoga Chair Series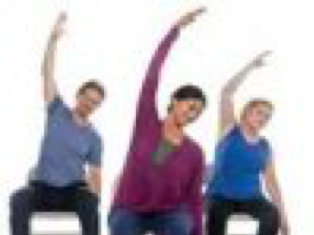 At The Shops on Steeles and 404, we will have a 3-part chair yoga series, held in Centre Court the 3rd Friday of September, October and November and will be facilitated by Joanne Picot. The final class for this year will be Friday November 15th. There is a $5.00 fee per class. Please register as space is limited. Healthy snacks will be provided.


Stay tuned for more upcoming health living programs!
Remembrance Day Ceremony
Every year, Mosaic hosts a Remembrance Day Ceremony for the community to come together and remember those who have given their lives for our freedom as well as those current soldiers and members of the Canadian Armed Forces. Please join us for a ceremony at Centre Court at the Shops on Steeles and 404.


And also Our Regular Monthly First Link ®Memory Café
Other Ongoing Events at Mosaic
The knitting and crocheting groups continue at both Community Resource Locations. So too, will our monthly cafes that encourage socializing, learning and laughing.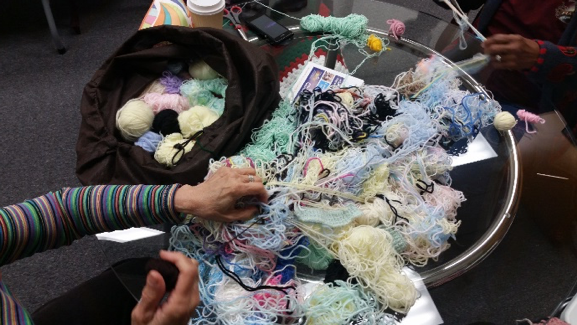 Movies & Popcorn
A few months ago at the Markham Community Resource Centre, we started to show a movie. This is a great opportunity for those who like to watch movies in a smaller space (for free!) and want to meet new people at the same time. Each month a variety of movies are offered with the group choosing the one they wish to watch. And, of course, popcorn will be served.
Come and join us – we'd love to meet you. RSVP is required as space is limited.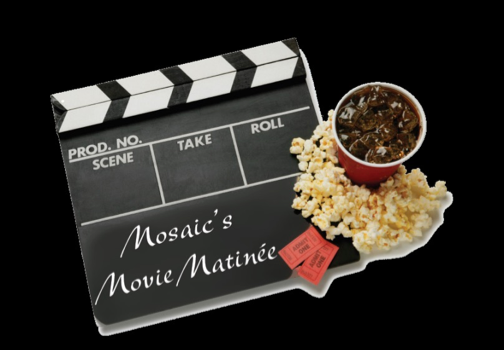 Community Table Talks…
We are happy to introduce a NEW program this Fall which we are featuing at our Neighbourhood Whole Foods on Bayview. The next Community Table Talk will be held on Monday, November 25th from 1:30-3:00pm. The photo shows Shrid (standing), the First Link Coordinator from Alzheimer Society Toronto https://alz.to/ with several attendees.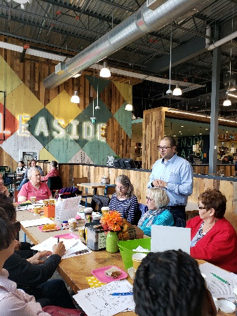 Mark Your Calendar!!!
The Shops on Steeles and 404
RSVP: 905.597.7000 or info@mosaichomecare.com
For more events happening in the community, please check out our Activity Booklet
We look forward to meeting you!
RSVP for any of our events at
905.597.7000 or 416.322.7002
Markham Office (The Shops on Steeles and 404)
2900 Steeles Avenue East, Suite 218, Markham, ON L3T 4X1
Tel 905.597.7000 | Fax 905.597.5446


Toronto Office (CNIB Centre)
1929 Bayview Avenue, Suite 215H, Toronto, ON M4G 3E8
Tel 416.322.7002