Reviews
Our work brings in contact with many exceptional services that provide a range of services and have special expertise in their field.
These are people who we have worked with and who have worked with us.
We invite you to hear what they have to say about our team, and to contact them if you require their services.
Recent Reviews
---
Reviews from Community Leaders
Reviews from Professionals
Tri-Congregational Churches
Dear Jane,
I am writing to tell you how wonderful your staff were who provided 24-hour care for Jack throughout the last couple of years of his life. I can really see how Mosaic won the European Gold Award for Excellence in Person-Centered Care. Everyone whom I met when visiting with Jack at home and in hospital was so caring, friendly and helpful. During his last few days of palliative care in the hospital even some who where off duty came to see him. There were too many for me to name.
It was only because of your staff that he was able to live at home as he wished until his last few days. After his wife, Lorna died, he was no longer able to care for himself and he was very lonely. All his caregivers gave him excellent care including the emotional support so crucial to helping maintain meaning and purpose in his life. Please thank them for all of us who cared about Jack during his many years at Iona Presbyterian Church. His family, Gary & Judy also wanted me to express their gratitude.
Thank you,
Margaret E. Black
Parish Nurse
January 2020
Evergreen
Evergreen has been partnering with MOSAIC for a year now, teaming up in order to offer Chronic Disease Self Management programs called Healthy Living Now. More recently we have been able to offer one-on-one counselling for individuals and their families living with the impact of a life threatening disease or the death of a loved one in their storefront office. In addition we partner with MOSAIC and CHATS (Community and Home Assistance to Seniors) for the provision of caregiver support groups for the Thornhill community. Evergreen also hosts the Hospice Palliative care Team Meetings in their facility. Joining with MOSAIC has allowed Evergreen to continue Thornhill based service provision without the cost and responsibility of a full time facility. The relationship saves us money, which we can spend on direct client services, and improves community awareness of Evergreen's free services through MOSAIC social media and their Mall location contacts and the is location with great parking. Evergreen has really benefited from this relationship and hopes to continue building the partnership in the coming year.
North York General Hospital
I have been referring to Mosaic since starting in my role in 2013. I met one-on-one with Jane Teasdale who provided me with information about the goals and standards of Mosaic. Since then I have referred several of my patients for personal support care and/or nursing care. My patients have given me feedback wonderful feedback about the excellent care Mosaic provides. As a Patient Navigator it is important to me that I provide quality resources to patients. I never hesitate referring to Mosaic because I know my patients will be in good hands. Mosaic is more than just a company they are truly making a difference in the community. I commend Jane and her team for the wonderful work they continue to do every day.
Larissa Teng
Patient Navigator/Clinical Nurse Specialist
September 2017
Parkinson Canada
I am SO happy for you personally, knowing the level of care you have always striven to provide your clients. This is also a major acknowledgement for Mosaic as one of our community partners, to whom we often refer people to for the varied services you provide.
Jane is a long-time supporter of Parkinson Canada, and was instrumental in making connections for one of our Toronto Botanical Garden presentations with a panel of speakers. Sandie and I have had the pleasure of visiting her offices, which are unique in not only having personal support workers, but also different community programs, walking clubs, social events, a community resource centre, and of course The Meaning of Me® program 🙂
Congrats and big hugs, my friend!!
Robert TerSteege, CIRS
Information & Referral Associate
September 2017
North York General
Dear Sponsors,
On behalf of the Nursing Week Committee, please accept our thanks for sponsoring lunch during our 2015 celebration week at North York General. Each and every one of you have made our nurses smile and be appreciative of your kind and generous efforts. This week has been fun and educationally filled for all the nurses, however, it is still almost next to impossible to have everyone be able to attend all the events and many cannot leave their unit due to the patient care required. It is your generosity that is so much appreciated.
Personally I thank you all for your ongoing support and phenomenal work you do with our senior population and provision of excellent quality of care. Collectively, each and every nurse thanks you as well for honouring them during the 2015 year of Nursing Week.
We look forward to your continued support.
Fran Wolfe
Nurse Practitioner Geriatrics
St. John's Rehab Hospital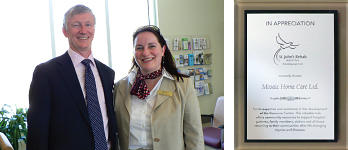 Malcolm Moffatt, Executive Vice President, Sunnybrook Health Sciences Centre with Nathalie Anderson
Dear Jane Teasdale:On behalf of St. John's Rehab Hospital, I would like to take this opportunity to express my gratitude for your assistance and contributions in the development of the Resource Centre, located in the new John C. and Sally Horsfall Eaton Centre for Ambulatory Care.
Thanks for your knowledge and expertise in identifying the community resource services that are applicable to the patients, families and visitors of St. John's Rehab.
They will all now be able to access information about health promotion, management and recovery as well as access to community support services.
Our great success in the development of the Resource Centre would not have been possible without your continued assistance and dedication during its initial development and implementation.
Working with you has been a pleasure and I want to express my sincere appreciation for your generous efforts and your commitment to helping us create the best possible Resource Centre for our hospital community.
Please do not hesitate to come by and visit us at the new Resource Centre at any time.
Sincerely,
Rhonda Galbraith
V.P. Patient Programs and CNO, St. John's Rehab Hospital
Bernard Betel Centre
The Bernard Betel Centre has worked with Jane and the Mosaic team for over 10 years in a variety of settings such as presentations, health fairs, conferences and much more.I can always count on Mosaic to be reliable and provide excellent, up-to-date information for the senior community with a smile.
Jane's presentations are always well-received and she is willing to answer any questions that come her way. I always look forward to working with Mosaic.
Red Coats Moving Solutions
Downsizing • Decluttering • Relocating • Home Staging
Red Coats was founded by Vicky Riley Keyes in 2004 and has moved over 500 families. Vicky leads a team of caring and experienced professionals, dedicated to ensuring that they manage every detail of your move.
416-920-1317 • info@redcoatsmoving.com • www.redcoatsmoving.com
"I have known Jane for over 8 years and have worked with her on many occasions. She brings an exceptional level of commitment to caring for those she serves and believes passionately in making a difference in the lives of those who need her services the most."
Vicky Riley Keyes
President, Red Coats Moving Solutions
Ward Funeral Homes
Our service to families in our communities has been a tradition since 1914 when W.J. Ward established his first funeral home.  Through the years, management of the funeral homes has been assumed by successive generations of the Ward family and we remain a family firm to this day.  For nearly a century, Ward has been the first choice of families seeking personal, compassionate assistance during difficult times. The Ward family and professionals who work with them further demonstrate their commitment to the community by supporting and participating in numerous community events, as well as offering a variety of interesting and informative seminars, at no cost.
(416) 241-6356  • joanneb@wardfh.com • www.wardfuneralhome.com
For nearly 10 years, it has been my privilege to know and work with Jane at numerous community events.  Because of her comprehensive knowledge of community services Jane has become a valued resource. Her work ethic as well as her genuine care and concern for each person who looks to her for support are exemplary.
Joanne Bunton
Community Outreach Coordinator, Ward Funeral Homes
North York Elder Abuse Network
I have worked with Jane on the North York Elder Abuse Network for the last several years.  During Jane's time as Co-Chair of Network she displayed dedication and commitment to the welfare and well-being of Seniors through her hard work at making a difference in educating the community and professionals on the issues pertaining to Elder Abuse.
Therese Lawlor
North York Elder Abuse Network Committee Member
Elder Caring Inc.
Expertise • Experience • Excellence
Elder Caring Inc. is a Geriatric Care Management company comprised of a team of experts in social work and other allied health fields. Elder Caring Inc. provides consulting services to older individuals and their families across Canada.
We:
Make difficult conversations about care, finances, and housing easier
Manage services and navigate health care and home systems effectively
Plan for the next stage of care confidently
Implement customized care strategies and facilitate smooth transitions
Monitor care plans and adapt responses appropriately
Access government/community resources competently
416-658-8887 • 1-866-473-8887 • www.eldercaring.ca
"I have had the pleasure of working with Jane since 2004.  I have found her to always be professional, prompt, reliable and responsible in all of our work together.  She is dedicated to making a difference in people's lives and her community involvement and activities, speaks to her commitment."
Audrey Miller
MSW, RSW, CCRC, CCLCP, Managing Director, Elder Caring Inc.
McDermott Footcare
On Thursday, Dec. 8, I spent a wonderful afternoon making Christmas potpourri and having tea and cookies with a lovely and lively group of seniors. We were at the offices of Mosaic Home Care Services and Community Resource Centre. www.mosaichomecare.com Jane Teasdale, one of the Principals of Mosaic had invited McDermott Footcare to come and see what they're all about.
Amidst tea served in porcelain cups, hot mulled cider and an abundance of Christmas cookies, we crafted our individual potpourri. The resource room smelled of Christmas – cloves, ginger, cinnamon. Kimberley Davies, Community Relations Manager of Amica at Bayview, www.amica.ca/bayview guided us through our craft projects.
Some of the seniors reminisced about Christmases past, childhood winter adventures and a simpler time. For me, that was the best part of the afternoon – getting to know the guests and listening to their stories.
Thank you Jane and the entire Mosaic team for your hospitality. Most of all, thank you to Jack, John, Lorna and the other guests who shared part of your lives with me over afternoon tea, cookies and potpourri. What a great reminder that foot care is not just about feet.
416-997-2949 • mcdermottfootcare.com
Theresina McDermott
RN – Owner, McDermott Footcare
Central Eglinton Community Centre
In February, 2015 Mosaic Home Care Services & Community Resource Centre provided a complimentary lunch to members of the Older Adult Program of Central Eglinton Community Centre. Jane Teasdale gave a wonderful presentation on the unique services offered by Mosaic. Her pleasant personality and clear communication style were very engaging. Thank you for the wonderful presentation and for providing the complimentary lunch.
Sheri Bulmer
Central Eglinton Community Centre
Reviews from Community Members
Andre
Dear Jane, Nathalie and Team;I cannot express my gratitude enough for this wonderful opportunity and experience that you have grated me. My time with Mosaic was very rewarding and has inspired me to contribute more to my community. The work you do has opened my eyes to new possibilities for a career and has made me realize the potential of starting my own business.Thank you for teaching me the ways of the office. There was never a dull moment. The many different tasks were enjoyable and put my abilities to the test. Thank you for introducing me to the community; both in the Shops on Steeles area and around Sunnybrook. I would love to return and help out wherever and whenever possible.
Thank you for making my practicum one of a kind.
Yours truly
Andre
Toronto Waldorf School Student
Amanda
Very vibrant community with all age groups. The resource centre information will aid a lot of individuals in need!
Helene
An amazing asset for the community! Best Wishes!!!!
Berridge Family
What a wonderful concept – every community needs this. Very welcoming offices and staff.
Berridge Family
September 2010
David Zimmer
"Mosaic" a great service to the community – Congratulations!!!
David Zimmer
MPP, Willowdale
September 2010
John Kane/Isabelle Welsh
A beautiful place with wonderful caring people.
John Kane/Isabelle Welsh
R.S. Kane Funeral Home
Sara Sutus
Congrats to the Mosaic Team! Its great that you saw a need and went after it – way to go and best of luck
Sara Sutus
North York Seniors Centre
Jeannie
Thank you for providing a well laid out resource center with attractive displays. Staff are so warm, personable and friendly!!
Jeannie
attends our events at Mosaic
Ann Balaban
A wonderful service to the community. The concept is truly "(Common Sense at its best!)"
Ann Balaban
Author and motivational speaker
October 2011
Reviews from Mosaic Members and Family
Tara
I used the PSW services while suffering with chronic back pain. I found the weekly help extremely beneficial. I had 3 different caregivers and all of them were pleasant, understanding and amazing with getting everything organized and helping me with my day. I also went to many events offered at the resource centre. I am in my 30's and people of all ages who are looking to connect and learn new things, this is a great resource. The staff where very easy to deal with and reliable when changing appointments and accommodating. Best service in the city!
Monica Duhatschek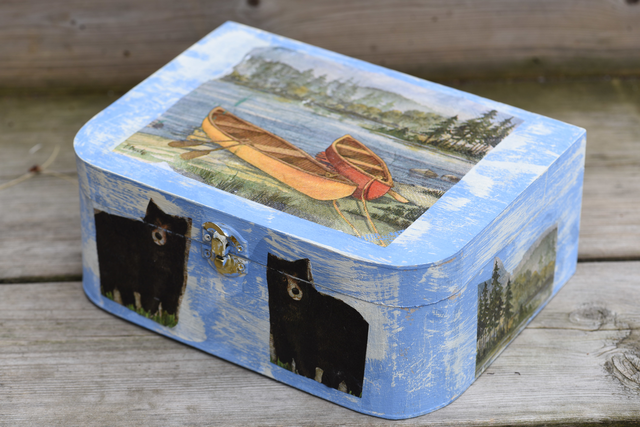 "My knitting group has broken up," said mom on the telephone, "but I may have found a new group to join. We got a flyer at the condo about a knitting group at the CNIB that's open to the community."
"You should go," I said. "Winter is coming and you'll need something to do. Besides what are we going to do with all the hats, mittens, and scarves we make every year?"
My mother, Katharina Duhatschek, lives in a condo at the Kilgour Estates, and for the past few years she has been meeting weekly in the condo library with a group of like-minded women to knit and crochet for charity. When I retired three years ago I got in on the fun, not showing up for meetings, but crocheting throughout the winter, making so many hats, scarves, and mittens that all family and friends were well-taken care of. I gave all my extras to mom's knitting group which sent them to
women's shelters once a year.
I have long understood the therapeutic benefits of knitting and crocheting. Even before I retired I would often come home after a stressful day and crochet for hours into the evening, using the repetition of the stitches and the rhythm of the patterns, to calm me down. Plus I got a big kick out of making something, choosing colours and textures and patterns, and bringing them together into a finished product. It would be hard to get through a winter without knitting and crocheting.
"We're making Twiddlemuffs" said mom on the phone. "Do you know what that is?"
"Nope. Never heard of them," I answered. "But let me see the pattern and we'll figure it out." Mom had walked over to the CNIB the previous week and met the wonderful women of Mosaic. Mosaic, we learned, is a home care and community resource centre. The knitting and crochet group was making muffs, decorated on the inside and out with buttons, flowers, elastics, and ornaments. The muffs would be distributed to residents of the Sunnybrook Health Sciences Centres Veteran's Wing. Not only do the muffs keep fingers warm, but they keep fingers busy.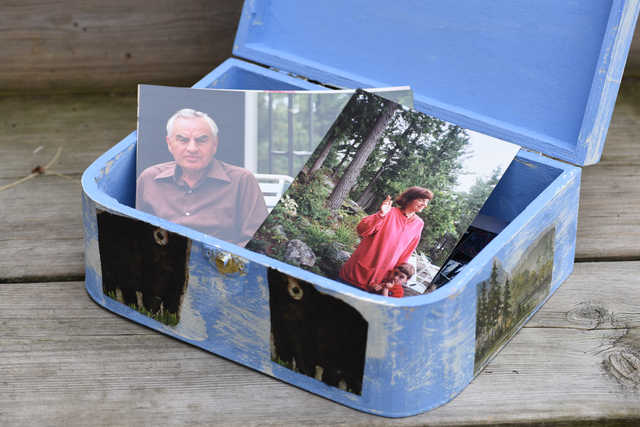 "They're doing decoupage," said mom on the phone a few months later. "Do you know what that is?"
"I think so I said. You stick pictures on wood and then varnish it. You should go."
The next time I visited, mom proudly showed me her decoupage box. She had painted the exterior of the wooden box in blue and then cut out shapes of cottage scenes, black bears, canoes, and pine trees. "I think I'll take it to the cottage this summer and put all our cottage photos in it. I'll leave it on the coffee table so people can look through the pictures."
Creativity is important to well-being, and while we all encourage creativity in children, sometimes we forget that we still need to be creative as a we get older. Making things, whether it's boxes, or mittens, or muffs, allows us to design and innovate, to express ourselves through our hands, to produce something and be proud of it. I'm glad mom has found a group like Mosaic, where she can participate in a creative community.
Ann
Mosaic has been providing wonderful care for my Aunt ClaraBelle at McCowan Retirement Residence.  She had an operation to repair a broken hip last night.  She survived the surgery but she died this morning.
I want to thank everyone on the Client Services team as well as the personal support workers who cared for ClaraBelle.  You gave the family peace of mind which is priceless.  The care for ClaraBelle was exemplary.  The communication and coordination with Client Services has been effortless and I thank you for that. Mosaic is in a class by itself.
Janet and Timbit
Prior to learning about the unique services of Mosaic. I was receiving personal care from another well-known and highly competent service. However, I sold my house in Deer Park and bought a condo at Davisville and Yonge. I met my neighbours and one of them is Jane Teasdale Co-owner of Mosaic Home Care Services & Community Resource Centres. So, when I needed personal care again, I called Mosaic. Wow! I know it's a cliché, but my eyes were opened to a more holistic (and I think a better) way of doing things. To put it simply, Mosaic staff are with you to care for YOU. They don't just run errands, walk your dog, cook meals, tidy up, or give you a bath. I mean they do all that of course, but the important difference is that their real mission is to get to know you. Mosaic's philosophy is a person-centred care approach process for all their clients.
It means that there are activities for you too. Because when you're a mosaic client you're part of the Mosaic world – as much or as little as YOU want. I was surprised and pleased. At one or both of their two locations they offer The Memory Café's where you can socialize, and be physically and mentally active, a blood pressure & information clinic, a knitting group and Nordic Pole Walking Club. I could go on and on but I'm sure you get the drift. And the programs are all free. I'm glad I found Mosaic and the whole team.
Janet and Timbit (the dog)
September 2017
Kathy
Jane, I just want to formally thank your staff for all the support they provided my Dad, Leo and our family and me over the past month.
When my Dad suddenly lost some of his abilities, it was very reassuring to speak with your team to quickly determine what kind of care we could get for my Dad. Though my Dad had been living in a retirement residence, I was the major support for him. Seeing him almost every day for 6 years was a blessing for me, though this sudden change in his demeanour created some stress for me and worry that I would not be able to provide what he needed right at that time. And the most important thing for me was that I needed to be able to support his needs NOW.
Your team was quick to respond, reassuring me that they could help and they could help quickly. When I needed to take him to the hospital the day after I contacted Mosaic, they quickly responded to my changing needs. They were kind, supportive, compassionate and listened gently. They were the reassuring voice I needed at that time. Your folks spent 6 hours with my Dad daily, and it was such a relief for me to know he was being cared for and would not be by himself when I could not be there on a busy medical ward. He could not call for help with the call button, and I knew the busy nursing staff would not be able to help him with his meals or make sure his dignity of being confined to a hospital bed was maintained. Your nurses did that for him, with care and compassion. It was such a relief for me to know someone could be there when I could not…and do the things a father would not want his daughter to do – when he needed things done…
Please pass on my thanks to his wonderful team…..I'm sorry, I wish I had all their names…Zohra, Mona, Levi, April…..
I am ever grateful and I will definitely offer your services as reference …..
Heather
Mosaic has done a wonderful job for us. We were floundering, looking for an answer to our family's particular crisis – Dad in hospital and Mum needing 24-hour surveillance – and there you were, calmly and efficiently providing the solution.
Thank you all so much for helping us through these difficult days with such grace and expertise.
Sincerely,
Doreen
This email was sent to Martha Miller, our Client Service Liaison at Mosaic Home Care's Bayview Ave. location in Toronto.
Dear Martha,Just a note of thanks for all the kind and caring service I received from the very first day I called Mosaic, when I had a tired feeling of exhaustion. Being exhausted was not good for me personally or as a caregiver for my mother, who was suffering from old age dementia. Since that phone call, Mosaic made a difference in my life with their immediate respect of my needs in caring for my mother.
Martha, you were always pleasant and supportive when you would be called with a crisis, requiring additional help. Martha, you always responded immediately with the help we required.
Mosaic is a wonderful organization and I want to give thanks to Mira Lee, who took such good care of my mother when I was not by her side. I was able to feel confident in Mira Lee who bonded well with my mother and helped me a lot with her bright smile and energy.
My mother passed away recently and I feel at peace knowing that I was able to provide her with the love and help she needed because of you Martha and also Mira Lee. I wish you both success and I would certainly use Mosaic in the future and recommend your services to others, without hesitation.
Respectfully,
Susan
Many most sincere thanks for the excellent service you have provided to me and my beloved family – I cannot imagine a better organization than yours.
With warmest regards,
Family Member
Although it has been a while since we used Mosaic's services, on behalf of my mother and our family, we wanted to thank you for the wonderful care provided by your staff during her recent illness. The level of support, caring and understanding was outstanding — from the personal support workers, to the nurses, to the role your staff played in co-ordinating the services.To begin with, we wanted to tell you how much we appreciated Martha's assistance in managing both the scheduling/timing of services and organizing the staff, especially as we made many special and last-minute requests. Martha's supportive and compassionate attitude made a big difference through what was a very challenging time for our family.
In addition, while all of the nurses and personal support workers who provided care for my mother were very good, we particularly wanted to mention J. and M. who were especially attentive to our mother's needs. J's assistance with medications and encouragement of exercise routines made a big difference in speeding our Mom's recovery. M. provided much needed soothing and comfort as she sat by our mother's bedside through many a night. Both of these women provided exceptional service that was very much appreciated.
Please convey our thanks to everyone. We would certainly use Mosaic again in future and recommend your service to others.
B. & L Virgilio
Many thanks to those whose presence supported and comforted the family over the last few months as Giuseppe prepared for his final journey in life. We would especially like to thank the following: Our beloved Malorie, Personal Support Worker, Mosaic Homecare…
M. Bascom
I don't know where to begin to thank you and Mosaic for the exceptional, professional and loving care my mother received. My mother dies with grace and dignity because of you, and only because of you and your company and the amazing staff, particularly Svetlana and Lilekah (Please look at the Star of the Globe for mention of their names). I know my mother was just one of your many clients but I never felt that way in terms of my mother's care. She was treated as a unique individual, a woman with a life lived and a big job ahead of her which is death. You all have a wonderful innate capacity to love a life as if that person was family. That is how I felt each time I saw the care Mosaic staff give my mother.Thank you all for your charitable donation in my mother's name. She was a giving person and would be so honoured. My mother was a vibrant and beautiful woman with an incredible zest for life. She lived a fill and well lived life and dies gently and peacefully thanks to all of you at Mosaic. I am privileged she was my mother.
God bless you all.
J. Dye
…Special thanks to…Mosaic caregivers Dayna, Michelle, Mallory, Lorelei and Amanda for their care and compassion.
F. Sethna
Thank you for all your help and support. I was relaxed during my vacation, knowing that he was taken care of by a reliable source.
M. McFadden
I wanted to take this opportunity to formally thank your company and the caregivers that it assigned to our mother during her period of recovery at home after her release from the hospital. We have no doubt that our mother's recovery was greatly speeded and made significantly less worrisome because of the professionalism and quality of the work of your company and the caregivers.
R.E. Greenwood
Because Lesly is taking such good care of Mom, she is improving very quickly. Everyone at Amica is amazed at how well she is doing. I think Lesly deserves a lot of credit for this. Having her with Mom is making it much better for me too.
S. Silberg
…I did want to also make sure that your team knows how much we appreciate Mosaic's work, professionalism, the empathy of your entire team and your amazing responsiveness. I know we called on you sometimes at the last minute and you team were always pleasant and supportive. We were so reassured when Penny was with my mother and my mother felt safe with Penny too. Please tell her how much we valued having her alongside my mother – who is the most precious person to us. So with great thanks from our family; good success with your business in the future.
Wilson
Great service Mosaic provides. My brother and I are very impressed. If my mom was herself, she would agree!
R E Greenwood
Mosaic is a wonderful organization made up of very special people. Everyone took such good care of Mom; everyone gave me so much support, help, and understanding. I take great comfort knowing that Mom's life was good to the very end.
S Steinberg
I came home from hospital following major surgery and many complications. I had never needed help before and was concerned as to how I would cope as I am an energetic and very independent woman. The young women sent to me was simply wonderful. Knowledgeable, kind, caring, and very respectful of my need for space. When we ran into some surgical complications she got me through that. She constantly encouraged my advances. Her respect and individualized care made me feel special. We quickly developed a wonderful rapport.Her goal was to help in any way that she could. And that she did! She is a 10 plus in every way. I miss her already.
Sheila
Dear Mosaic Family,
Let me just start off by saying THANK YOU Mosaic… Being a part in mosaic team has been such a blessing to me. The customer service team is very helpful and efficient with answering questions and concerns.
I would like to thank you for the Birthday card. I am so glad that you were able to take time to send me a card. Really appreciated, I feel very lucky for Mosaic Agency. The support and care you show for your employees is truly commendable. I am proud to say that I am employed with Mosaic.
Seeing how some people lived and needed so much help was, and is, overwhelming. Just giving some clients a shower, putting on their clothes, combing their hair, making sure they took their meals, meds and just talking to them was so appreciated. They wanted me to come again, again and again. Every day is great doing the job I do as a Personal Support Worker. Its not a chore to get out of bed everyday when you love your job. My grandmas and grandpas make it all worth it. It's almost a sin that I get paid to take care of clients who make me feel as good as I do. I know I make a difference in each and everyone's life I go see, but I get so much more out of my job then I could ever put into it. I got into this line of work because I need to be needed, so it's simply perfect for me. The smiles I receive; I could ask for no more..
Lastly, Mosaic is a great choice to work and has an excellent in giving care to the clients.
Warm Regards,
Reviews from Event Attendees
Priscila Kalevar
Excellent programs. The staff are all very good in attending to participants' requests, particularly Beth Eshete.
Priscila Kalevar
January 2021
Pat P.
Just a note to say how much I enjoyed Mosaic Collage workshop yesterday – March 9th – Lesley White has a delightful personality, explained the why's and wherefore's of a collage and said ..let the fun begin… to tear and cut and glue to make our 'take home' piece of handiwork…the room was silent for about 20 mins as each of the 8 attendees concentrated on their theme and snipped and glued! Those who did not attend missed an interesting and fun afternoon.
Thank you for providing the presentation.
Anne
Just returned from our second to last Nordixx pole walking outing and feasted on a delicious group lunch in the great outdoors. Thank you Mosaic Healthcare for your wonderful community outreach. Our diverse group of interesting seniors has forged a bond to stay active and not become socially isolated. Many thanks to you, the Mosaic staff, for your generosity of spirit and your commitment to helping each individual achieve their best.
Inge
Dear Jane and Nathalie,
May I wish you as well as the Mosaic staff a belated Happy New Year 2016 and thank you for the opportunity of attending the monthly meetings at The First Link® Memory Café of the Mosaic Home Care Services and Community Resource Centre (Markham) in Partnership with the Alzheimer Society York Region.
I find the lectures covering various aspects of dementia, being presented by highly professional guest speakers, very informative and helpful. Other presentations of interest and concern for seniors such as health care, legal issues etc. are also greatly appreciated.
Last, but not least, it is the warm and friendly atmosphere at Mosaic, which makes all the difference. Please keep up your good work in serving the community in such an exemplary way!
Best wishes,