Home Care Services
Mosaic is not a franchise; it is a growing Canadian-owned company that is completely focused on meeting the needs of our home care clients, their families and communities. We serve people of all ages and needs in the Greater Toronto Area, including York Region.
We understand that beyond your home care needs, you may need assistance with, information or advice about a multitude of other issues. That's how we make such a difference – not only do we deliver outstanding, professional home care solutions, we also offer a remarkable community resource centre.
Learn more about how we can make a difference in your home, in your family life, and in your community.
If you're looking for compassionate Home Care services in Toronto or York Region, contact us today, or click here to book a telephone or in-home assessment.
---
A best practice leader in the provision of home care that addresses the whole person
"To enable personal autonomy, it is necessary to consider things that can be done differently to help older people with high support needs achieve and retain the things they value in life, rather than simply assuming they no longer have the motivation or ability to participate." The Joseph Rowntree Foundation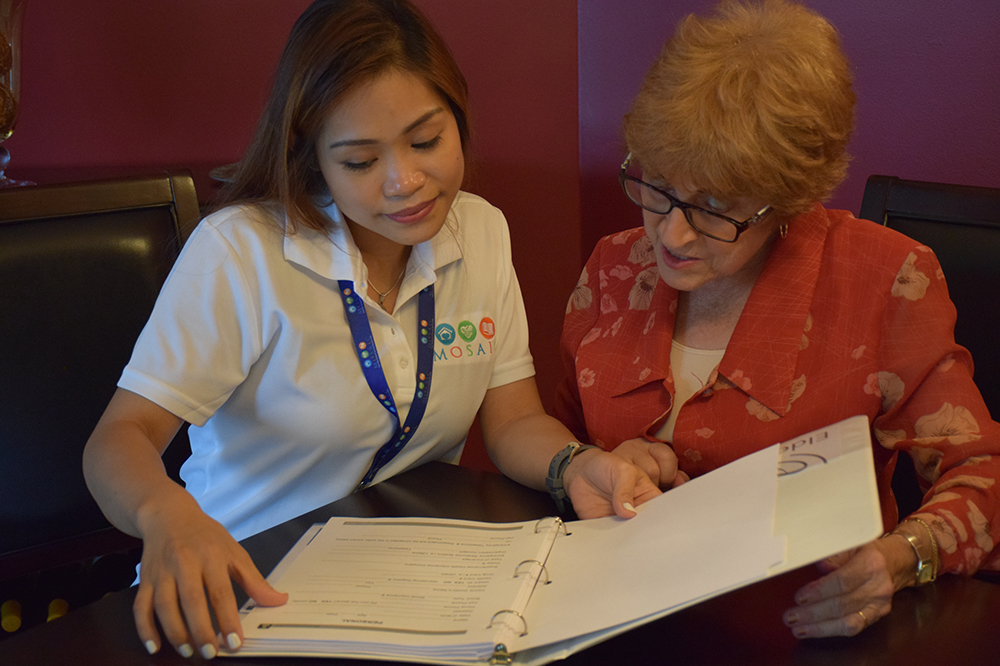 Mosaic is recognized as a best practice leader in home care services, and especially so in the way it addresses human values and social and community interaction. On October 20th, 2016 Mosaic was asked to present to the Ontario Society of Senior Citizen's Organizations Symposium on "Overcoming Loneliness and Social Isolation: Celebrating Best Community Practices".
According to the UK Social Care Institute for Excellence "People who use services feel that their carers do not motivate them to take part in activities and communicate with other people, or help them to make better use of their own resources". We believe that home care service providers should take note.
Mosaic's model of care helps meet identified social and emotional needs of older adults within its care through a number of key interactions:
Its core The Meaning of Me™ program provides the basis for an interactive journey and conversation between caregiver and family member under our care. Who are you, what have you done, what would you like to do, what are your hobbies, experiences, values, friends, family, key moments in life? We want to know you, you are a valuable person!
A discovery and initial assessment process that can help bring in other community resources at an earlier stage and identifies issues and circumstances that would need to be addressed to accommodate social and emotional needs.
Ongoing visits by client liaison person that address the caregiver client relationship, provides input to hobbies and interests, outings, events and social interaction.
"Social networks, social participation and feelings of belonging are important to healthy living..and prevention of isolation among seniors" – Public health Agency of Canada.
And the final piece of the puzzle is our own community outreach conducted largely through our community resource centres; these centres provide information and host a variety of fun and educational activities across the GTA.
Why are these events important?
They are first and foremost fun and accessible to all.
They help and inform us so that we can better serve our older adult client members.
They help older adults remain healthy, independent and socially connected
They serve the wider social need of older adults in our communities and provide a connection point for those who may be isolated and alone.
When looking for home care your first port of call should be the services provided, then the costs. At Mosaic we not only provide the services but we can also address how best to organize care so as to address your budget.